The text about Australian Aborigines called my attention, for this reason I searched more information and I share it with you.
The indigenous culture of Australia is one of the oldest and most fascinating. The Aboriginal population is very diverse, with different lifestyles, languages and traditions. However, these diverse societies are united under a single link of harmony with the nature called "Dreamtime".
The Dreamtime is a sacred, mythological and supernatural period in which ancestral spirit beings have shaped the earth and everything in it.
They believe that everything in the natural world is a footprint left
from metaphysical beings whose actions in the past created our world. Therefore mountains, rocks, rivers, etc. are the memory of the origin of all things.
The past is still alive in their present lives and will remain so in the future. It is a complex network of knowledge that penetrates all the spiritual and physical aspects of the life of an indigenous Australian. Thus, they consider that full extent of the land is a part of their body, everything is in sync, and the energy flows with them.
On one hand, Aboriginal people believe that everyone has a part of his nature which is eternal. The people then live a life within time (since became body by being born from a mother) and die for back again to an eternal life; they never cease to exist. In other words, life in Dreamtime has no beginning or end. But for us, life is but a fleeting instance, a gap in eternity.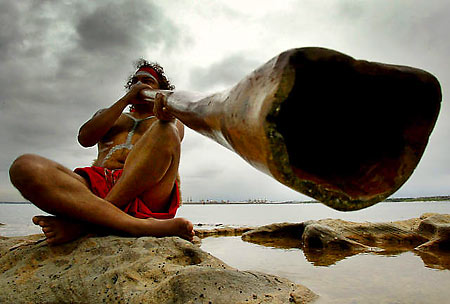 On the another hand, they have an intangible relationship between their music, beliefs and the land. They preserve the heritage through a tradition of mythological Dreamtime stories, and music has always played a central role in their cultural identity.
The culture is in close harmony with their environment. In this fashion, music is an imitation of natural sounds. The typical instrument of this production is the didgeridoo.
Now, how do we react to this culture?
For us it may sound mystical or mysterious, because we think rationally, but to get a better understanding of Aboriginal culture, we must open our minds and imagine the world before the development of reasoning and questioning.
Here I leave you with a video of their music